Established in 2012.
We are a 100% Online Store and are not open to the public.
We are 100% available for Product and Warranty Support by Phone.
We are located in Caboolture QLD Australia, specialising in supplying High Quality reconditioned Honda NBC110 Postie Bike/Parts to contractors and the public.
APB Auto is the sole Australian distributor for Wild Boar Tyres, and Wild Boar Motorcycle Parts with an ever increasing product range.
Our Goal.
We pride ourselves on customer service and have the most competitive prices in Australia on most Items.
Bikes Shipped Australia Wide.
Australia Wide Honda CT110 Shipping.
We can deliver your Honda NBC110 all over Australia at extremely competitive prices.
No matter where you are we can deliver your bike anywhere using our FULLY INSURED freight Company, using trucks that are purpose built for transporting motorcycles and small mini bikes we can assure customers that each bike is carefully loaded and documented for any marks or scratches to ensure High Quality Control over the entire process.
We can deliver anywhere using professionals that have a proven track record in the Industry.
AUSTRALIAN BUYERS – If you are ordering quantities of Items contact us first.
We love to help customers save as much as possible on postage.
Call us on 1300 149 294  or Greg's Mobile – 0466 892 472.
INTERNATIONAL BUYERS – Please contact us before purchasing.
As we may be on different time schedules please allow 24 hours for us to respond, we will get back to you as soon as possible, our website is updated daily and constantly monitored for orders and questions, so rest assured our friendly team will assist you as soon as possible.
SAFE EASY PAYMENTS WITH YOUR CREDIT CARD OR PAYPAL ACCOUNT


Bank Deposit – This option is available.
PayPal/Credit Card Payments – We accept PayPal or Credit Card – Please choose the Credit Card or PayPal options available upon Checkout.
Over the Phone Card Payments – We can take your Payment over the phone using your Debit or Credit Card MasterCard. (2.0% Fee Incurred)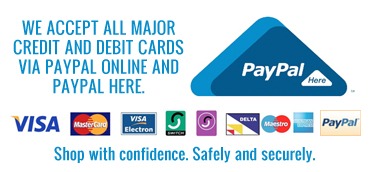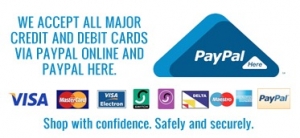 Customers Please Note – Over the phone Credit Card Payments incur a minimal 2.0% Transaction Fee.